Private Philanthropy Update - May 2018
On April 23, the Council on Foundations hosted an invitation-only event at the Surdna Foundation in New York to talk about Race, Poverty and Trust. Our featured speaker, Tiziana Dearing, Professor of Macro Practice at the Boston College Graduate School of Social Work, discussed lessons learned from her experience as the CEO of Boston Rising, a place-based, anti-poverty, public foundation that aimed to break the cycle of generational poverty.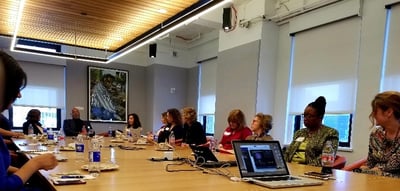 Professor Dearing engaged 20+ attendees in an open and honest conversation about why the foundation shut down, what was working, what was not, and her role in it all.
Her heartfelt presentation challenged us to think about our philanthropy from a love-based framework. A love-based approach to philanthropy is attained through solidarity and subsidiary. Boston Rising's approach was to "always transfer power to those facing the challenges, rather than keeping it for ourselves."
We look forward to continuing this important conversation about the dynamics of power, choice and control in giving with you.
Sincerely,
Talia Rivera
Director, Private Philanthropy
Council Opportunities
The Leading Together 2019 Call for Sessions is your opportunity to share your expertise and successes in tackling the some of the world's greatest challenges with a 1,000+ foundation CEOs and C-Suite executives and big idea makers from business, government, academia, media, and beyond.
All session submissions must be received by 11:59 p.m. PT May 31, 2018. Only Council members are invited to submit proposals.
Proposals must broaden our perspective and address one or more of the convening's core themes—Bridging Divides, Inclusive Economic Prosperity, or Climate Impacts and Vulnerability.
Leading Together 2019 will take place in Miami during the best time to visit—when the sun shines with temperatures in the high 70s and low 80s during the day. There is no better backdrop to showcase your knowledge and attract new partners, while also raising you and your organization's profile.
You have two weeks left to complete the 2018 Grantmaker Salary and Benefits (GSB) Survey. The deadline is 2:00 p.m. PT Monday, May 14.
Since 1980, the survey has provided the sector with the most comprehensive data on staff composition and compensation in the U.S. Use the report—to be released in mid-September—to inform your budgeting and staff recruitment and retention efforts.
Only survey participants receive a complimentary GSB report AND access to Benchmark Central, the Council's dynamic online benchmarking tool to run deeper salary, benefits, and demographics.
Upcoming Events and Webinars
Where and How is the Global Environment for Philanthropy Changing? | Wednesday, May 9, 2018 | Webinar
During this webinar, the Indiana University Lilly Family School of Philanthropy, the Council on Foundations, and foundation representatives will discuss changing incentives and barriers that individuals and organizations face when donating to social causes and organizations around the world, looking at both global and regional trends, as well as diving deep into the changing philanthropic environment in three countries: Hungary, Nigeria, and Venezuela.
The New Power of Philanthropy | Tuesday, May 22, 2018 | Webinar
Why do some leap ahead while others fall behind in today's chaotic, connected world? In NEW POWER, Henry Timms (CEO of 92nd Street Y and founder of #GivingTuesday) and his co-author Jeremy Heimans (CEO of Purpose) confront the biggest stories of our age and reveal what's really behind them: the rise of "new power". New Power is the ultimate skill of our times- the ability to harness the power of the connected crowd.
At the upcoming NEW POWER webinar, Henry Timms will lay out a practical framework for understanding how power is shifting and provide you with some tools and techniques that will help you navigate the 21st century. From how to spread your ideas, to how to start a movement, to how to transform an organization, it is a practical guide to navigating our chaotic world. Learn how to harness these possibilities and apply them within your foundation, relationships, and community.
Inclusive Economic Prosperity in the South| May 23-24, 2018| Spartanburg, SC
The Council on Foundations and our partners, The Spartanburg County Foundation and the Southeastern Council of Foundations, invite you to a dynamic two-day convening at the innovation centers of two prominent Southern corporations — Milliken and BMW Manufacturing — where we will consider the factors that make up a healthy local and regional economy that strives to be inclusive and promotes innovation. For more information visit cof.org.
Three-Legged Stool: Elevation, Monitoring and Feedback | June 13, 2018| Webinar
Almost all foundations and nonprofits want a better understanding of how their funding, services and products are (or are not) making a difference in real people's lives and how they might be improved.
In this webinar, we will be introducing a new framework for measurement in the social sector. It is a three-legged stool: (1) evaluation; (2) monitoring; and (3) feedback from your ultimate beneficiaries. We will draw on examples of how this plays out in practice at the Nurse-Family Partnership.
Private Philanthropy News
Time's Up for Philanthropy, Too
As someone who has spent the last thirty years working to end violence against girls and women, I have never been more hopeful. Women and girls are being believed. Abusers are being held accountable. Sexual violence, so long invisible, is finally becoming visible.
Is Big Philanthropy Democracy Deferred? Global Study Shows the Power of the Ultra-Rich
A newly release study from the Hauser Institute for Civil Society at the Harvard Kennedy School claims that we are in a "global age of philanthropy," where the number and wealth of foundations is increasing. Discerning readers must ask, what does this mean about the structure and expectations of society?
True Believer: A Silicon Valley Mega-Giver Has High Hopes for AI and Tech
Eric Schmidt is out as Google chair, but he has some big aspirations in philanthropy, fueled by a $13 billion fortune and a preoccupation with how science and technology might improve the world.
Share Your Story
If you're interested in submitting a blog about your work, what you're learning, or any thought-provoking questions with your colleagues, feel free to contact me at talia.rivera@cof.org for the guidelines.