Global Philanthropy Update - June 2018
Last week, I attended the U.S. Conference of Mayor's 86th Annual Meeting, joining a panel to discuss the diverse ways cities partner with foundations. The panel highlighted examples of collaboration, from meeting the immediate needs post-disaster to long-term commitments that drive inclusive economic growth, poverty alleviation, and improve access to mental health services for all. I was honored to join representatives from the mayor's offices in Houston, New York City, and Fayetteville, Arkansas as well as the Walton Family Foundation for the discussion. I also discussed how the Sustainable Development Goals (SDGs) are a global framework that cities and foundations can use to set shared goals on critical issues, including climate change,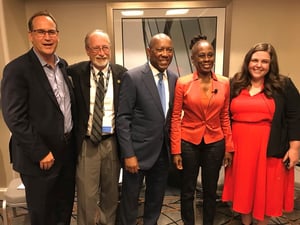 education, health, and gender equality. At the conference, the mayors adopted a resolution committing to keeping America safe and prosperous by measuring progress on the SDGs and acknowledging the importance of American support for the UN system, SDGs, and Paris Agreement. This resolution is particularly important when you consider that a new report from the Sustainable Development Solutions Network, scoring 100 US cities on how they are achieving the SDGs, found that 62 cities are less than half of the way toward achieving the 15 of the 17 SDGs that apply to urban areas.
New York City has announced that next month they will voluntarily report on their progress on the SDGs during the UN's High Level Policy Forum (HLPF), becoming the first city in the world to report on progress towards the global goals. HLPF will include a full slate of meetings focused on localization of the SDGs, in the U.S., and around the world.
Momentum is continuing to grow around the SDGs, and at the Council we are committed to continuing our work on how philanthropic organizations, both within the U.S. and around the world, can leverage the SDGs to strengthen their ability to drive social change. Please be in touch if you are working on the SDGs or want to learn more about how this global framework can help you. You can also find many SDG resources for foundations on the Council's website. 
Best, 
Natalie 
Vice President, External Relations
Global Philanthropy Developments
Foreign Agent Registration Act (FARA)
Earlier this month, there was a new development on the use of FARA in targeting U.S. non-profits that work internationally. The House Committee on Natural Resources sent a letter to the Natural Resources Defense Council (NRDC) as part of an investigation into the "potential manipulation of tax-exempt 501(c) organizations by foreign entities to influence U.S. environmental and natural resource policy. In this letter, Committee Chairman Representative Rob Bishop (R-UT) and Representative Bruce Westerman (R-AR) assert that NRDC may need to register under FARA, including for these particularly worrisome reasons that likely apply to most U.S. foundations working internationally:
That NRDC's ability to work in China is dependent on the goodwill of the Chinese government because NRDC must register as a Foreign NGO in China. This overview from ChinaFile's NGO project is a good analysis of this claim;
That NRDC regularly engages Chinese officials in conversations about their work;
That NRDC has implemented different advocacy approaches when engaging the U.S. vs. Chinese government and has supposedly criticized U.S. policies on the environment while praising China's efforts to comply with climate change commitments.
We will continue to track how FARA can be used to target U.S. non-profits working internationally, in partnership with ICNL and InterAction. Please be in touch if you'd like to learn more or join our advocacy effort on FARA.
Comments Submitted to U.S. Treasury on National Terrorist Financing Risk Assessment
On June 11, the Charity & Security Network sent comments to the U.S. Department of Treasuryregarding its pending update to the 2015 National Terrorist Financing Risk Assessment. The comments, which reflect input and insights from C&SN members including the Council, also request a meeting to follow up on the April 12 discussion Treasury hosted on this topic.
The comments demonstrate that the risk of terrorist financing abuse by legitimate non-profit organizations is low, due to both government oversight and robust nonprofit sector good governance and due diligence practices. It is therefore critically important that Treasury distinguish risks for non-profits in two distinct categories – sham/fraudulent charities and abuse of legitimate NPOs – since each require different types of risk reduction measures. These comments recommend a methodology for assessing risk to the NPO sector based on the revised FATF Recommendation 8 and guidance, which "states that governments should identify the subset of NPOs that face risk of terrorist financing abuse so that proportionate, targeted steps can be taken to address that risk."
Bridging Religious Divides in Europe
The EFC's 2018 Annual Conference was held in Brussels on May 29-31st. More than 600 philanthropy professionals from 37 countries representing more than 300 organizations came together to debate, listen to, and get inspired about how culture impacts communities. The Council co-sponsored a panel discussion with the Conrad N. Hilton Foundation that explored the role philanthropy can play in supporting interfaith "bridge-builders," focusing on the European context.
This panel built off an event the Council co-hosted at the Newseum in February 2018, exploring this topic within the U.S. context. We look forward to working with partners in Europe to globally discuss how, in increasingly divided societies, philanthropic institutions can bridge religious divides effectively.
Global Philanthropy and Development News
Democracies Need a Little Help from Their Friends, via Foreign Policy
The war against foreign-funded NGOs by governments in countries around the world— from India to Israel — is harming democratic governance, not enhancing it. 
Philanthropy's Developers, via Alliance Magazine
The June 2018 issue of Alliance Magazine explores the evolution of philanthropy infrastructure – the worldwide support systems underpinning philanthropy. As the world changes, how do these philanthropy support organizations help philanthropy navigate and keep pace? 
On Philanthropy: Community foundations are key partners in achieving U.N. goals, via The Denver Post 
Community foundations can be uniquely effective in achieving SDGs because they have unrivaled power to convene key stakeholders in the community. 
Philanthropy in Brazil, via Philanthropy for Social Justice and Peace 
An overview of current developments, obstacles, and possibilities for philanthropy in Brazil, exploring innovation and new initiatives from leaders working to strengthen the sector locally. 
The Very Good and Very Bad News in Giving USA's Report on Philanthropy in 2017, via Chronicle of Philanthropy  
The latest Giving USA study shows that individual giving continued to increase in 2017, surpassing $400B for the first time. Foundations now account for 16% of all giving ($66B), which is more than double the share of overall giving in 1998. Notably, giving was up in 2017 for all causes except international affairs, which declined 6.4%.
Upcoming Council Events
Legal Webinar: Private Foundations and DAFs
June 20, 2018 at 2:00PM EST
Free for Council Members
The administrative costs of operating a private foundation can prove too burdensome and drain the grantmaking capacity of private foundations, especially smaller ones. Foundations may decide to transfer assets to a Sponsoring Organization to take advantage of the administrative efficiencies of using a donor advised fund (DAF). Some private foundations also do this to facilitate international grantmaking. Join the Council to discuss the ins and outs of regulation as well as get practical advice for how private foundations can leverage DAFs to advance and enhance their charitable missions.
Finance and Endowment Summit
September 6-7, 2018 in Washington DC
Early bird pricing ends midnight June 30, 2018
The Council's #EFSummit is where top minds in philanthropy, finance, and academia converge to discuss and debate investment trends and strategies—and create competitive advantage in the marketplace. Focus areas include impact investing, endowment performance, public policy changes, new technology, capital deployment, manager diversity, and more.