Private Philanthropy Update - August 2018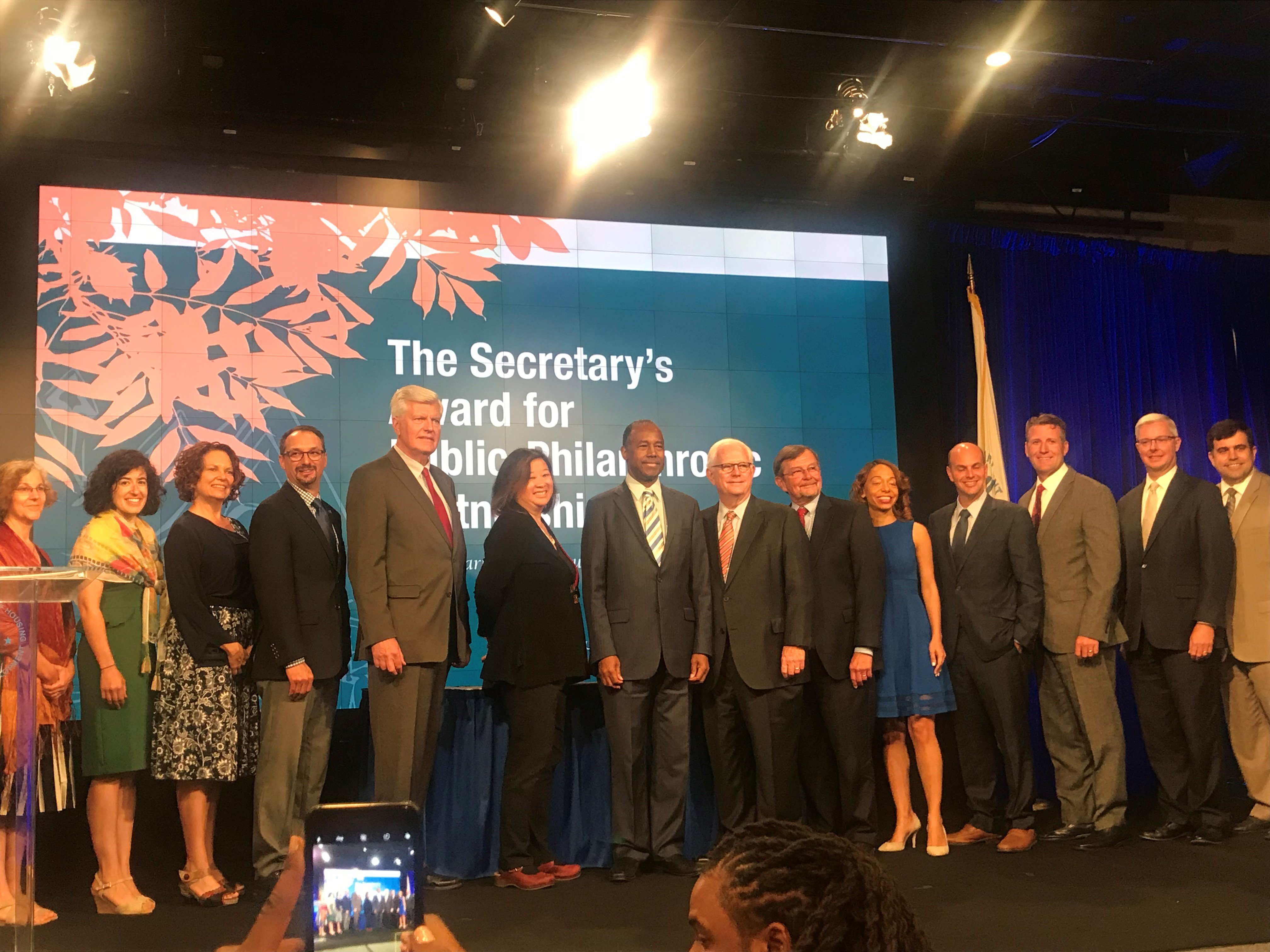 This July, the Council and the U.S. Department of Housing and Urban Development (HUD) presented the 2018 HUD Secretary's Award for Public-Philanthropic Partnerships. We were honored to recognize seven different private foundations for their cross-sector partnerships that increase the quality of life for low- and moderate-income residents all across America. I am frequently impressed with how private foundations leverage partnerships to drive social change.
The private foundation winners include:
The awards, presented to honorees by HUD Secretary Ben Carson in a ceremony at the HUD headquarters, recognize exemplary partnerships between the philanthropic and public sectors that have been critical in transforming communities and improving lives. 
I also wanted to make sure you were aware that Talia Rivera has left her position as the Council's Director of Private Philanthropy. We thank Talia for her almost five years of service and wish her well in her future endeavors in Boston. We will be filling this position, so if you know of candidates with deep knowledge of the challenges and opportunities for private philanthropy who can lead the Council's engagement with our family and independent foundation members, please reach out with ideas and suggestions. In the meantime, I'll be your point of contact should you have questions or concerns about the Council.
Best,
Natalie Ross
Vice President, External Relations
Ph.: 703-879-0627
natalie.ross@cof.org
---
Upcoming webinars
How Do U.S. Foundations Support Global Programs & Partners | August 14, 2018
In 2015, global grantmaking by U.S. foundations reached a new all-time high of $9.3 billion. Did you know that grants by the Bill & Melinda Gates Foundation account for almost 50% of all international grants awarded by U.S. foundations? Or that between 2011 and 2015, only 12% of funds went directly to local organizations without first flowing through an intermediary? Join us to hear about the findings our new report, The State of Global Giving by US Foundations, as we discuss how U.S. foundations currently engage with the global community and what this means for grantees and our sector.
Insights from the 2017 Investments and Endowment Study | August 29, 2018
Foundation endowment managers faced both challenges and opportunities in 2017 as they worked towards funding the grantmaking practices of their organizations. These included preparing for the enactment of the Tax Cuts and Jobs Act, as well dealing with changes in the market that led to significantly higher investment returns. The 2017 Council on Foundations-Commonfund Study of Investment of Endowments for Private and Community Foundations (CCSF) examines the ways in which endowment professionals met these challenges and positioned their institutions to take advantage of new opportunities. This webinar will review the results of the study and provide a preview of the future economic environment investors are likely to face.
---
Archived Webinar
Our Nation's Giving Trends: What Does the Giving USA Report Mean for Foundations?
Charitable giving surged to $410 billion in 2017, the highest ever, according to the latest Giving USA report, but what do the numbers mean for foundations?
---
Upcoming Events
Inclusive Economic Prosperity in the Midwest | August 28-29 | St Paul, Minnesota
To understand the role that philanthropy can play in ensuring inclusive economic prosperity, it helps to examine the landscape that contributes to a healthy economic ecosystem that is both equitable and innovative. The Council is excited to bring a national perspective to a locally contextualized conversation around the unique challenges Midwestern communities face in ensuring economic prosperity for all in a convening co-hosted with six regional philanthropy associations from across the Midwest.
Alongside national subject matter experts like Jeff Hoffman, Managing Partner of Legend 52 and serial entrepreneur from Priceline.com and uBid.com, and Dr. Jamie Bracey, Director of the Center for Inclusive Competitiveness at Temple University, private foundation speakers include:
Wade Fauth, Vice President, Blandin Foundation
Brian Lipschultz, Trustee and Co-CEO, Otto Bremer Trust
Duchesne Drew, Community Network Vice President, Bush Foundation
David R. McGhee, Program Director, The Skillman Foundation
Whether in a rural or urban context, inclusive economic competitiveness won't improve if philanthropy does not join forces with our public and private counterparts in order to drive change locally that leaves no one behind. Opportunities abound for foundations to play a pivotal role: to convene partners, administer dollars and attract capital, as well as lead with conviction.
Endowments and Finance Summit | September 6-7, 2018 | Washington DC
The Council's 4th Annual #EFSummit is where foundation leaders – such as CEOs, CIOs, CFOs, Senior Investment Officers and board and investment committee members – converge to dialogue on trends, issues, best practices and innovations dealing with endowments, financial management, business and other professional challenges. Participants will gain insight, valuable networking experiences and professional enrichment opportunities, including earning continuing professional education (CPE) credits to maintain certifications.
Recent Private Philanthropy News
Foundations Break Their Grant Guidelines and Speed Cash to Immigrant Needs—Private foundations commit quick-turnaround grants to immigrant legal and health services, via The Chronicle of Philanthropy
Epic Quest: A Big-Picture Look at Private Philanthropy for Global Development—An overview of recent trends in global giving by private foundations, via Inside Philanthropy
Early, Patient, Nimble Philanthropy Can Make or Break Public-Private Partnerships—A case study on private philanthropy investment in environmental conservation, including lessons learned, via Stanford Social Innovation Review