Community Philanthropy Update—March 2019
Through social movements like #BlackLivesMatter, #MeToo, and #NeverAgain, we see people for the change they want to see in the world, and in their communities. As these movements grow and evolve, a common question arises—How can community foundations support these groups or individual passions responding to today's societal pressures, especially if they are not formally organized? What internal structures or systems enable rapid-response, whether raising your voice or in grantmaking?
But with our sector facing questions and critiques about power and influence, there is also the growing question of whether foundations even should support, and inevitably influence, social movements.
When we gather in Miami for our upcoming Leading Together Conference, I'm excited to discuss the big questions around philanthropic influence with many of you, including how the intersection of increasing inequality and philanthropic capital are influencing important critiques of our sector. Before the conference begins, we will convene a Community Foundation Executive Roundtable on Monday morning, April 29th. In the afternoon, there are several pre-conference sessions; I'll be leading the session U.S. Communities in Crisis, but urge you to consider any of the three options.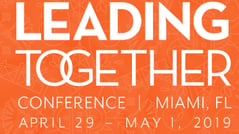 The conference kicks off with our opening plenary, Successful Philanthropy for the Future: Challenging Our Assumptions, which features diverse philanthropic leaders challenging our sector to think differently about power, influence, and racial equity. And our closing plenary, Activating Levers of Social Change: Philanthropy, Policy, and Justice, will explore critical issues facing our country and world today, like the opioid crisis and the fight for women's rights.
With key themes of collaboration and a focus on issues like inclusive economic prosperity, climate resiliency, and bridging divides, I hope you will join us to talk about philanthropy's future.  It is a critical time for community foundations to see themselves in the rising tides of philanthropy's influence  — registration is open now.
My Regards,
Brad Ward
Director, Community Philanthropy
Ph.: 703-879-0640
Brad.Ward@cof.org
---
Welcoming Returning Members
As we near the end of 2019 renewal season, it is gratifying to see community foundations renewing their Council membership each week. Thanks to all renewing and returning members!  Your investment ensures our ability to serve the field with the best in legal, professional development, public policy, and National Standards! If you haven't yet renewed, the grace period for your membership ends on March 31st. These are returning members who, after some time away from Council, are re-investing in the Council's work to strengthen our sector. 
Aspen Community Foundation
Community Foundation of Harford County
Community Foundation of Herkimer & Oneida Counties
Community Foundation of Southern New Mexico
Community Foundation of the Eastern Shore, Inc.
Community Foundation of Washington County Maryland, Inc.
Fairfield County's Community Foundation, Inc.
Kenai Community Foundation
Laurens County Community Foundation
Midlands Community Foundation
New York Community Trust
The Community Foundation San Luis Obispo County
Wichita Falls Area Community Foundation

Where to Find Brad
Thanks to Arizona Community Foundation for hosting the Council's first Legal Matters workshop of 2019, led by Suzanne Friday, VP of Legal Affairs at the Council, and joined by co-host, Interim CEO, Sandra Nathan, Philanthropy Southwest.  
I'll be in DC for Foundations on the Hill March 11-13, followed by a presentation to the governing board and staff of The Foundation of Delaware County (PA) on March 18th and a keynote to the affiliates of Community Foundation of Louisville (KY) on Mar 20th.  I'll close out the month in Tucson, AZ, on March 27-28 for our next Executive Roundtable, hosted at Community Foundation of Southern Arizona.
Reach out if I'll be in your area to see if we can connect in person.
---
Curious about Benchmarks?
Frequently, I receive inquiries about data on community foundations.  A suggestion is CFInsights, a service of Candid, which conducts field-wide research and helps community foundations gain knowledge about their operations.  By participating in their survey, you gain access to all the benchmarking tools.
Participating in CFInsights Columbus Survey is free and simple. Simply click here or access the survey from the CF Insights website. To create a new account or ask questions about the survey, contact David Rosado, Director of CF Insights by emailing david.rosado@candid.org or calling (212) 807-2430.
---
Community Foundation Affinity Groups
Many affinity groups create positive networks among foundation professionals. The Council is proud to recognize and support CommA, the communications professionals network and ProNet, for program officers.  In addition, the Council is collaborating with CEONet. The CEO and Executive Directors professionals network recently commissioned a CFInsights study on assessing the need for a community foundation CEO network and will be joining our Executive Roundtables series.  
Two affinity groups are offering upcoming conferences:
AdNet Embracing Change Conference
Advancement Professionals Network
April 7-10 | New Orleans, LA
Join the Council for two sessions at the AdNet conference:
Innovation in Funding Disaster Response with Council Member, GlobalGiving looking at the greater shift to online fundraising in and out of disasters.
FAOG Conference | Fiscal & Administrators Officer Group | September 8-11 | San Antonio, TX 
---
Member Spotlights
The Community Foundation of Puerto Rico released its Transparency Report, Sustainable Renovation for Puerto Rico assessing the first year post two hurricanes devasting the island.  Connect with Nelson I. Colón Tarrats, CEO and Mary Ann Gabino, Senior Vice President, in person at the Leading Together Conference in Miami to hear the remarkable stories that continue to unfold as they work towards ongoing, long-term recovery in Puerto Rico.
 
---
Reimagining Council Membership
2019 is an important year for the Council! We are undertaking a comprehensive review and analysis of membership to ensure we are ready to achieve our mission: advancing the work of our members and the philanthropic sector. More than 400 philanthropic leaders completed our Reimagining Council Membership survey, including more than 200 community foundation leaders. Please email us with comments or to volunteer for an upcoming focus group. We are committed to a transparent process with decisions informed by diverse perspectives —add your voice now.
 
---
 We Moved!
Effective February 19th, the Council on Foundations' offices are now located at 1255 23rd Street, NW, Suite 200, Washington, D.C. 20037. All Council staff phone numbers will remain the same. We have space to host members, so please let us know when you're in DC and stop by to see our new space!   

WEBINARS
Mar 13 | 1-2pm EST | Conference Call: National Standards
Mar 20 | 2-3pm EST | Webinar: Community Foundation Scholarship Programs: From A to Z
Archived | Post-Graduation Scholarships: What Are They and How Can You Use Them?