Private Philanthropy Update - April 2019
In January, we kicked off our work to Reimagine Council Membership, and since then, we've heard from more than 450 foundations via an open survey, an external task force, and a series of focus groups with resigned and current members of the Council.  
One large and loud message we have heard is that as we rethink our dues model and the price of Council membership, we also need to better define our value proposition. This includes the necessity of articulating the benefits of Council membership to individual foundations, as well as better defining the value of the Council's work for our sector broadly, particularly our work on public policy and regulation of philanthropy.
For more information on what we have learned so far, including what private foundations most value at the Council, read our latest blog highlighting key survey findings.
As we continue to test potential new models for our dues, we remain committed to centering member engagement in our process. Are you planning to attend our upcoming Leading Together conference in Miami? Kathleen Enright, our new President and CEO, will host a listening session in Miami that will help inform the future of the Council. We'll also be announcing virtual opportunities to engage with Kathleen soon and she'll be visiting members on a trip across the Southeast this summer.
We thank and appreciate all the foundations who have renewed their membership for 2019 or rejoined the Council recently. And we look forward to continuing to listen to you, improve our work, and together work to strengthen the Council and our work for our members and for the field.
If you want to learn more about what's happening at the Council, discuss our work to reimagine Council dues, or share more about your work, please reach out so we can find time to connect.
Best,

Natalie Ross
Vice President, External Relations
Ph.: 202-991-2517
natalie.ross@cof.org

Leading Together Conference
 April 29 – May 1, 2019 | Miami, Florida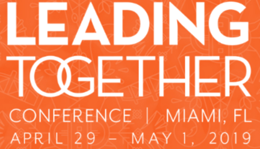 We are one month away from the Council's 2019 Leading Together conference in Miami! 
Leading Together is a tremendous opportunity for the field to come together to chart the course for how we will shape its future.
It's exciting to have so many inspiring thought-leaders joining the conference, like Lisa Hamilton, president and CEO of the Annie E. Casey Foundation, who will share what she's learned through the Foundation's efforts on racial equity and inclusion in one of our fireside chats.
Our opening plenary will kick off the conference with a discussion about how the philanthropy sector can become more effective and inclusive. Attendees will hear from Don Chen, President, Surdna Foundation; Brian Hooks, President, Charles Koch Foundation; Jessamyn Shams-Lau, Executive Director, Peery Foundation; and Tonya Allen, President & CEO, Skillman Foundation.
With a wealth of networking opportunities available, join your peers to share what innovative solutions.

NEWS & RESOURCES
Career Pathways: Making Philanthropy More Equitable via Council on Foundations
Real Equity Means Including People with Disabilities in Philanthropy via Chronicle on Philanthropy
Donations to Charity Plummeted Last Year (except from the super-rich) via FastCompany
Aligning Purpose and Investments: Why Are You Stuck? via SSIR
Girls in the Driving Seats of Philanthropy via Forbes