Private Philanthropy Newsletter—February 2018
Last year, I attended an event hosted by the New England Impact Investing Initiative (NEIII) for a conversation with Michael McCreless, Senior Director of Strategy and Impact, at Root Capital.
At this event, Michael showed us how to use a tool he developed, a simulator, he calls the Efficient Impact Frontier. The efficient impact frontier seeks to provide investors with tools to efficiently balance risk, return, and impact in their portfolios.
If you're curious about how to balance impact with risk and return, I want to invite you to join me for a conversation with Michael on Wednesday, February 7th at 2 p.m. ET. He will provide a brief introduction to impact investing and share the challenges that foundations may face as they engage impact investors. He will also highlight the crucial role that philanthropy can play in keeping impact investing focused on impact.
Finally, he will describe how the concept of the "efficient impact frontier" can be useful in helping foundations and impact investors collaborate more effectively to set -- and achieve -- shared impact goals.
I hope you can join us!
Best,
Talia
Membership Renewal is Underway
I want to thank the following private foundations who have joined the Council for 2018:
Bernard & Audre Rapoport Foundation–Waco, TX
Endeavor Foundation, Inc.–New York, NY
Fred Harris Daniels Foundation–Worcester, MA
Harry and Masie Masto Foundation–Bellevue, WA
James E. Huffer and Betty J. Huffer Foundation–Bokeelia, FL
Karpel Foundation–Saint Louis, MO
The Philip Stoddard and Adele Smith Brown Foundation–Takoma Park, MD
Shirley E. Noland Foundation–Melbourne, FL
Siegel Family Endowment–New York, NY
If you have not renewed yet, I would like to remind you how your membership is crucial in supporting the philanthropic sector. Leading together, we can further strengthen philanthropy's ability to be at the forefront of innovation and societal improvement. The membership renewal period ends on April 30, 2018. Please take 90 seconds to share you intentions to renew with us. Doing so will opt you out of receiving select 2018 renewal messages.
Yes, we intend to renew
We are undecided on renewing
No, we will not renew
(INTERNAL) TALENT MANAGEMENT FOR (EXTERNAL) IMPACT
On Wednesday, February 14th at 2 p.m. ET, join us for part-two of our webinar series with The Bush Foundation.
The Bush Foundation believes in investing in the development of their staff members to advance their purpose of making the region better for everyone. They see this as a "smart investment with long-term yields". Their goal is to enable their staff members to do more good in their current roles at the Foundation and in every future role, inside or out of the Foundation. They hope to model prioritizing investing in people and, at the same time, develop leaders who can have lasting career impact beyond the Bush Foundation.
For the past five years, The Bush Foundation has been working to embed their belief in the power of people in their operations, in four ways:
Bring leadership development into our own operations
Increase the diversity of background and perspectives of our staff
Redefine cultural "fit" to support our mission and values
Managing performance to do more good, every year
You do not want to miss this discussion!
If you missed part-one of this webinar series, "The Bush Approach," a recording is available for you, on-demand.
RELIGIOUS DIVERSITY IN AMERICA TODAY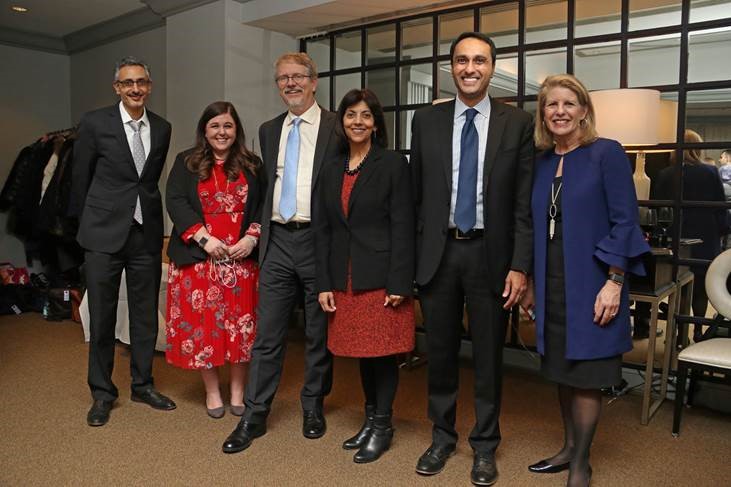 (Pictured, L-R: Tony Banout, Vice President of Institutional Advancement, Interfaith Youth Core; Natalie Ross, Vice President of External Relations, Council on Foundations; Peter Laugharn, President and CEO, Conrad N. Hilton Foundation; Shaheen Kassim-Lakha, Director of International Programs, Conrad N. Hilton Foundation; Eboo Patel, Founder and President, Interfaith Youth Core; and Vikki Spruill, President and CEO, Council on Foundations.)
On January 31, the Council on Foundations, Interfaith Youth Core and the Conrad N. Hilton Foundation convened a national discussion aimed at sparking solutions for the fractured state of religious diversity in America today in Washington D.C.
The invitation-only symposium at the Religious Freedom Center of the Newseum Institute brought together more than 100 of the nation's leading activists, foundations, and experts for a robust half-day discussion entitled "This American Moment: Bridging Religious Divides."
The day's event included keynote addresses from Eboo Patel of Interfaith Youth Core and New York Times columnist and best-selling author David Brooks. The event also kicked off what is expected to be an 18-month long conversation about religious divides. Stay tuned for more information on how you can join this important dialogue.
Attendees also heard from a distinguished group of foundation leaders who shared insights into the philanthropic sector's role in stimulating conversations around faith and diversity. Panelists included Nancy Cable, President, The Arthur Vining Davis Foundations, Hilary Pennington, Vice President, Ford Foundation, and Kashif Shaikh, Co-Founder and Executive Director, Pillars Fund.
Click HERE to watch the event.
RECENT PRIVATE PHILANTHROPY NEWS
Sherry Magill to Retire
Sherry Magill will retire June 30, after leading the Jacksonville-based Jessie Ball duPont Fund for the last 25 years and becoming a leader in the national philanthropic community
Mellon Gives $10 Million for Humanities; Walmart Sends $5 Million to Puerto Rico.
Andrew W. Mellon Foundation will give to the University of California system office to endow advanced studies through its Humanities Research Institute and Humanities Network across the system's 10 university campuses, while Walmart Foundation is donating $4.9 million to Mercy Corps to continue its hurricane relief and recovery efforts.
Ella Baff to Leave the Andrew W. Mellon Foundation
Ella Baff will step down in March from her position as Senior Program Officer for Arts and Cultural Heritage at The Andrew W. Mellon Foundation to focus on new opportunities involving innovative arts and culture programs.
In partnership with five community foundations, Barr launches new $3 million initiative to strengthen arts and creativity across Massachusetts
The partnership includes Berkshire Taconic Community Foundation, Community Foundation of Southeastern Massachusetts, Community Foundation of Western Massachusetts, Essex County Community Foundation and Greater Worcester Community Foundation
Artificial intelligence in the court: When algorithms rule on jail time
The AI system used in New Jersey, developed by the Houston-based Laura and John Arnold Foundation, uses nine risk factors to evaluate a defendant, including age and past criminal convictions. But it excludes race, gender, employment history and where a person lives.
A Conversation with Rockefeller Foundation's Rajiv Shah
The former USAID administrator, and president of one of the United States' largest foundations, reflects on the role of philanthropy in times of austerity and the greatest challenges Rockefeller is undertaking both domestically and abroad.
UPCOMING EVENTS
Public Policy Summit | April 11-13, 2018| Philadelphia, PA
Philanthropy is a driver of civil society. It fuels the programs and movements that shape our culture across communities. Private foundations, in particular, are uniquely situated with the experience and expertise to lead the way forward on issues that affect people in the communities you serve, throughout our nation and across the globe. As leaders in philanthropy, it is our civic duty to extend this leadership to provide expert input in the policymaking process.
The Public Policy Summit is an opportunity for independent and family foundations to learn, shape, and be heard. Below is a sample of concurrent sessions relevant to private foundations:
Politics and Power: Building and Utilizing Political Power in Pursuit of Policy Goals
Following the passage of tax reform, our sector is examining our successes and our challenges within the political sphere. Our speakers will discuss tools, tactics, and strategies for building and wielding political power in support of specific policy goals.
Impacts of the 2018 Federal Budget and the President's 2019 Budget Proposal
Many of the executive and fiscal actions of the Trump Administration have triggered complicated and layered public policy and legal issues, putting a variety of "hot issues" in the forefront of the public discourse and Congressional deliberations. Nevertheless, the Administration's vision for running the federal government includes drastic reductions to human, educational, and environmental services that have traditionally been key parts of our society. Join federal and tax policy analysts who will provide an update on the decisions and actions related to the 2018 federal appropriations bills, and their expected impacts on states, municipalities, and nonprofit services. They will also review the President's proposed FY 2019 budget proposal.
A Portrait of the U.S. Political Landscape
Pew Research Center President Michael Dimock will present an analysis of the U.S. political landscape, focusing on the state of democracy, widening partisan and ideological divisions on fundamental political values, and how demographic change is likely to influence political attitudes in the decades to come. In addition, Dimock will present data on the public's policy priorities from Pew Research Center's annual policy survey and assess the public's mood heading into the 2018 midterm elections.
SAVE THE DATE: Inclusive Economic Prosperity in the South| May 23-24, 2018| Spartanburg, SC
Communities differ in their definition of economic prosperity. There isn't a cookie-cutter approach to achieving prosperity across a diverse America. Yet, as the American economy continues to improve, the timing is right for philanthropy to define a unique leadership role for itself in regional economic development.
By promoting the concept of inclusive competitiveness as a central tenet in economic development, foundations of all kinds can insure that disadvantaged populations are not left behind. Intentional strategies are needed to ensure that economically-disconnected individuals find successful connections to emerging regional economic innovation ecosystems and education institutions – the critical pathways to successful participation in the global economy.
With a core theme of "foundation leadership to promote inclusive economic development," this convening will focus on two key strategies that foundations can utilize to promote economic inclusiveness: impact investing and public-private partnerships ---strategies that can help communities undertake innovative capital investments and workforce investments.
Join this dynamic two-day convening in the innovation centers of two prominent Southern corporations—Milliken and BMW Manufacturing—and work directly with your Foundation colleagues to explore the evolution taking shape in our economy and philanthropy's role in ensuring everyone can benefit and prosper in their communities.
Share Your Story
If you're interested in submitting a blog about your work, what you're learning, or any thought-provoking questions with your colleagues, feel free to contact me at talia.rivera@cof.org for the guidelines.