Corporate Philanthropy Update - June 2018
Since arriving at the Council, I have regularly heard from members about how important employee engagement programs are to their overall corporate philanthropy strategy. I know this was the case for my work as a corporate philanthropy leader at Georgia Pacific and Under Armour.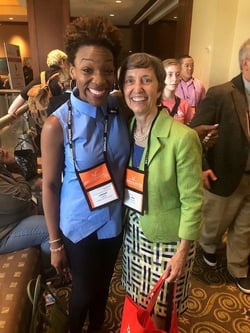 Lindsay Mason and Ann Cramer, Senior Consultant, Coxe Curry & Associates and Co-Chair, Host Committee, 2018 Service Unites/Points of Light Conference
I just returned from the ServiceUnites conference by Points of Light, which is focused entirely on the power of volunteer engagements. This year's theme, Igniting Civic Culture, felt especially relevant today. After listening to service-oriented leaders, meeting nonprofit organizations and learning from corporate volunteers from across the country, I came away thinking about the concept of intentionality as it relates to corporations and community service.
Whether your corporate volunteer program, initiative or service activities fall under your company's Human Resources, Communications or Community Affairs' departments, we all can likely afford to give more thought to first, whether we are cultivating partnerships and service projects that align best with our business goals. And secondly, are these partners and projects driving us closer to the collective impact we desire for those who live, work and play in our key business areas?
Throughout the conference, the following takeaways resonated with me, linked to the important intersectionality of corporations, service and culture:
Be RELATIONAL, not TRANSACTIONAL,
Strive to build service INTO, rather than ON existing business,
Demonstrate VALUE to the business, employees, the workplace and your local community by sharing compelling partnership stories around your engagement efforts.
I also found the links below to be great resources in this space and hope you might find them helpful as well:
It was great to meet with representatives from Georgia Power, Medtronic, and Bayer USA Atlanta this week. If we haven't met yet, I'd love to connect and hear about your work around intentional employee engagement, tell me about it by clicking here.
I have great interest in hearing what you are doing, highlighting your successes and sharing what's working amongst our membership for greater peer-to-peer exchange.
Happy Summer!
Best,
Lindsay Mason
Director, Corporate Philanthropy
703-879-0735
Lindsay.Mason@cof.org
---
Upcoming Council Events:
Family Separation & U.S. Immigration Enforcement Policy: Recommendations for Philanthropic Response 
6/27 | Webinar
Join the Council and Grantmakers Concerned with Immigrants and Refugees for a webinar, next Wednesday, June 27, 2018 on immigration, policy implications for children and families and the recommended response from the philanthropic sector. Speakers from RAICES, The Florence Project, Texas Civil Rights Project, ProBAR and National Domestic Worker's Alliance will participate in a panel discussion highlighting existing procedures, legal orientation and support services.
Corporate's Role in Workforce & Economic Development
8/28-8/29 | Saint Paul, MN
The Council's next Inclusive Economic Prosperity convening will take place Aug. 28-29 in Saint Paul-Minneapolis. Join us as we explore how all foundation types can leverage their respective roles as community leaders, grantmakers, public/private partnership conveners, and even impact investors to expand opportunities within local jurisdictions. During this convening, panelists will share their experiences, challenges, and opportunities in building a regional economic innovative ecosystem.
To learn more, please check out the resources and schedule of events for Minneapolis.
Endowments & Finance Summit 2018
9/6-9/7 | Washington, DC
The Council's 4th Annual #EFSummit is where the top minds in philanthropy, finance, and academia converge to discuss and debate investment trends and strategies—and create competitive advantage in the marketplace. Focus areas include impact investing, endowment performance, public policy changes and impact, new technology, capital deployment, manager diversity, and more. Early bird pricing ends midnight June 30, 2018.
---
Recent Resources & News:
"Is the Chan Zuckerburg Initiative the Future of Philanthropy?" outlines an innovative approach to charitable giving that challenge traditional corporate philanthropic strategies, via the Stanford Social Innovation Review.
"Giving Surges to $410 Billion in 2017. Will the Grow Last?" shares an annual overview of charitable giving with emphasis on the current and projected donations of corporations, via The Chronicle of Philanthropy.
"Why We Need 'Now Jobs' in Workforce Development" highlights how one private foundation is leading the way for job opportunities and inclusive economic prosperity in their key jurisdictions, via the Aspen Institute. 
"Wells Fargo Pledges to Give $400 Million in Cash in 2018" explains how the company is positioning itself to become the leading corporation in charitable giving in the US this year, via The Chronicle of Philanthropy.