Corporate Philanthropy Update - January 2019
This year, the Council on Foundations celebrates 70 years of service to the philanthropic sector. As I reflect on the resources and networks that have sprung from the Council throughout the years, I am excited by its evolution, lessons learned and the many opportunities that lie ahead.
We are kicking off new corporate programming at the Council in 2019, starting with our Legal Matters Workshop for Corporate Foundations/Giving Programs in Philadelphia on March 7th. Register today to join us as we dive into the legalities of charitable giving and address legal questions received from companies across the globe. 
The new Legal Matters series is just one of several new opportunities for corporate members and partners that we are launching at the Council. Our work is centered around helping companies and foundations make the best use of philanthropy for public good. And I believe companies are uniquely positioned to move the needle in the sector as we shift the narrative from sponsorships to philanthropy that drives social change. As our work continues to expand, I look forward to watching and supporting your efforts over the year.
If there are topics you'd like to see addressed by the Council or incorporated in our corporate programming, email me at Lindsay.Mason@cof.org.
Lindsay Mason
Director, Corporate Philanthropy
Lindsay.Mason@cof.org
703-879-0735
---
WHEREABOUTS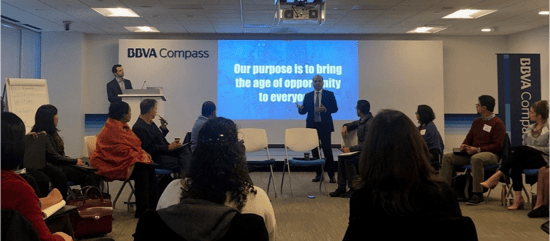 This week, the Council's Career Pathways 2019 Cohort held its first meeting in Houston, Texas, where they were welcomed by Rey Ocanas, President of the BBVA Compass Foundation, who shared the mission to "bring the age of opportunity to everyone."

Lindsay Mason with Patrice Withers-Stephens, JCPenney.
Thanks to BBVA Compass for hosting Career Pathways and sparking the conversation around the intersection of business, diversity and CSR.
While in Texas this week, I also met with our members at Texas Instruments and JCPenney to learn about their latest initiatives and opportunities for the Council to serve them as they chart ahead on their 2019 goals.    
---
GOVERNMENT SHUTDOWN
Have you redirected resources due to the government shutdown? The Council is closely watching the shutdown, and we want to help spread the message of how companies and foundations are supporting federal workers and nonprofit organizations during these times. If your company is activating any shutdown-related efforts, please send highlights to govt@cof.org. 

LEGAL MATTERS WORKSHOPS FOR CORPORATES
Legal Matters Series for Corporate Foundations & Giving Programs
The Council on Foundations' attorneys will be coming to a city near you! Join us as we share the legalities of charitable giving and discuss topics such as governance, compliance, international grantmaking, mission-related investments and so much more. Registration is now open for our first event in Philadelphia on March 7th!
 Corporate philanthropy practitioners, board members, and corporate counsel are welcome.  
Additional Dates/Locations in 2019:  

Un-blurring the Lines Between a "Sponsoring" Company & the Foundation
February 13 | 2:00 PM ET
Learn how to communicate and maintain separate identities between corporate foundations and corporate giving programs as you drive charitable activities of the company. 
Archived
Telling Stories with Data  
Learn how to use data visualization as a communication tool to educate external constituents and encourage audiences to take actions on programmatic goals. 

CECP's Investing in Society provides a comprehensive report on how companies are aligning their social investments and the top trends of companies' social investments in 2018. Key areas such as Employee Power, Collaborative Advocacy, Responsible Tech, Long-Term Growth and Measured Impact are discussed, via CECP.
Blackbaud Acquires Market-leading Corporate Social Responsibility Provider YourCause discusses the implications of Blackbaud's recent purchase of YourCause, via PRnews.
Top Five Sustainability Trends for 2019 shares the Centre for Sustainability and Excellence (CSE) share its latest predictions following recent innovations, technologies and 2018 activities, via CSRwire.  
How Business Leaders Are Introducing Disability Rights As A Corporate Social Responsibility highlights the awareness and business case for inclusion of the disability community, via Forbes.
Institute of Corporate Social Responsibility, led by Washington Area Regional Grantmakers and the U.S. Chamber of Commerce Foundation, is currently accepting applications for 2019. Learn more here.
---
Job Opportunities
Motorola Solutions Foundation – Grants Consultant | Remote