Washington Snapshot: Congress Races to Prevent Government Shutdown, Trump Administration Shake-Up
In This Week's Edition of Snapshot…
---
News from the Hill
Congress Set to Vote on Omnibus Ahead of Friday Deadline
Congress is facing a deadline of this Friday to pass a $1.3 trillion spending bill to avoid another government shutdown. Congressional leaders were initially expected to release the details of the bill on Monday, but were delayed in doing so due to a snag in negotiations over which "riders"—unrelated policy measures that are meant to either make a bill more attractive to certain lawmakers in attempt to secure their vote or to attach a controversial measure to a must-pass bill—would be included. Some of the riders in question included a provision from the House version of the tax reform bill to weaken the 1954 Johnson Amendment, a fix for the "grain glitch" in exchange for a low-income housing measure, and an online sales tax measure championed by Rep. Kristi Noem (R-SD).
The text of the bill was released last night and included the "grain glitch" for low-income housing deal, increased money for border security, and a moderate gun safety measure, among other provisions. Most importantly, of the things that were not included, were any measures to weaken or repeal the Johnson Amendment—a huge win reflecting the efforts of the sector. The House is expected to vote on the bill today, and the Senate is expected to vote shortly thereafter.
On a related note, Chairman of the Senate Appropriations Committee Thad Cochran (R-MS) announced that he will be retiring from Congress on April 1, due to health issues. Mississippi Governor Phil Bryant appointed state Agriculture Commissioner Cindy Hyde-Smith to fill his seat.
A Recap of Foundations on the Hill 2018
Last week marked another successful Foundations on the Hill (FOTH)! Kicking-off on Monday, more than 240 foundation leaders came together in Washington, DC, to meet with members of Congress and their staff to discuss and advocate for policies that would strengthen philanthropy's ability to serve the common good.
At the opening reception co-hosted by the United Philanthropy Forum, Council on Foundations, and Philanthropy Roundtable, Council President & CEO Vikki Spruill joined the Forum and Roundtable President & CEOs, Dave Biemesderfer and Adam Meyerson, respectively, to welcome FOTH participants to DC.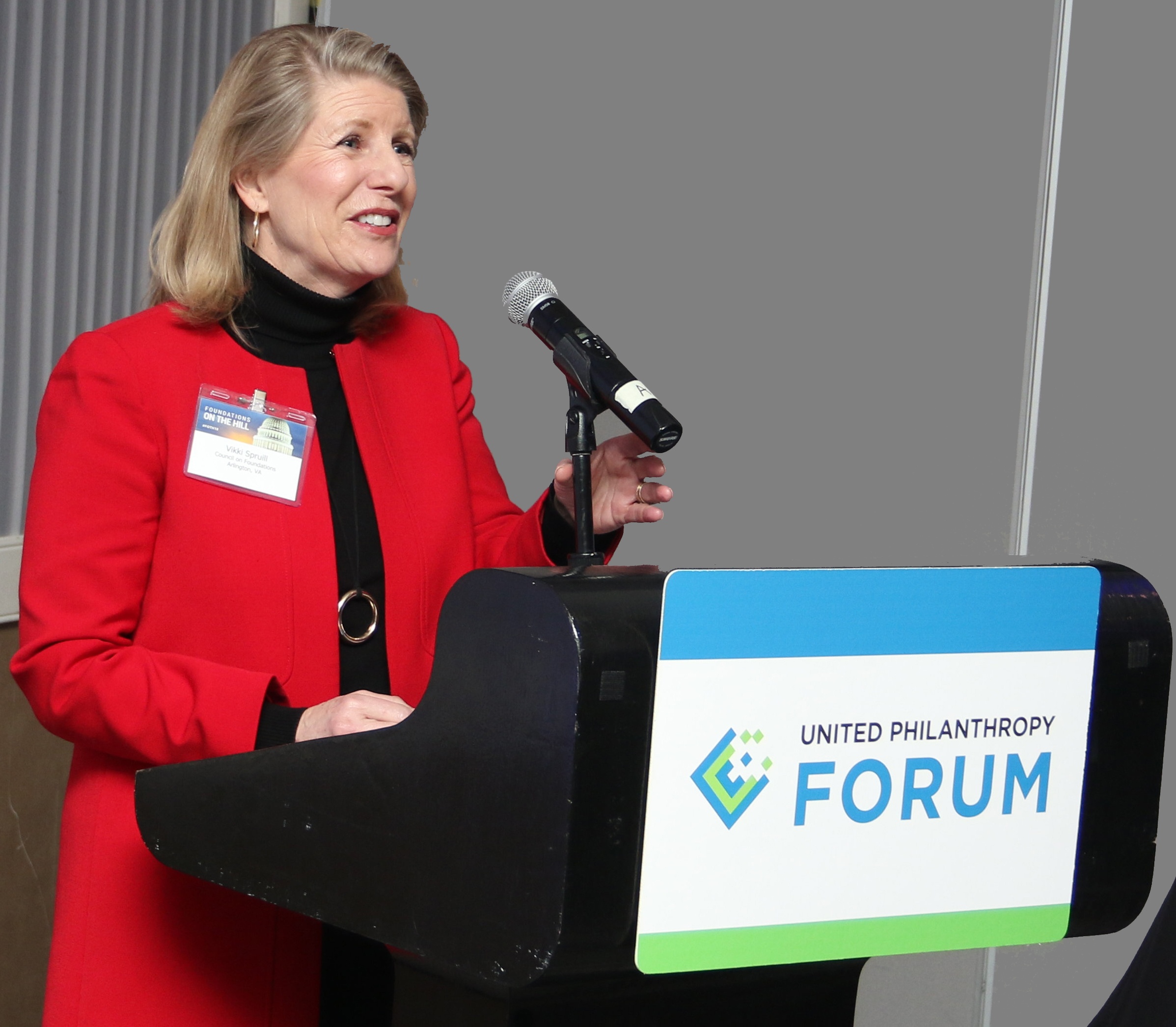 Council President and CEO Vikki Spruill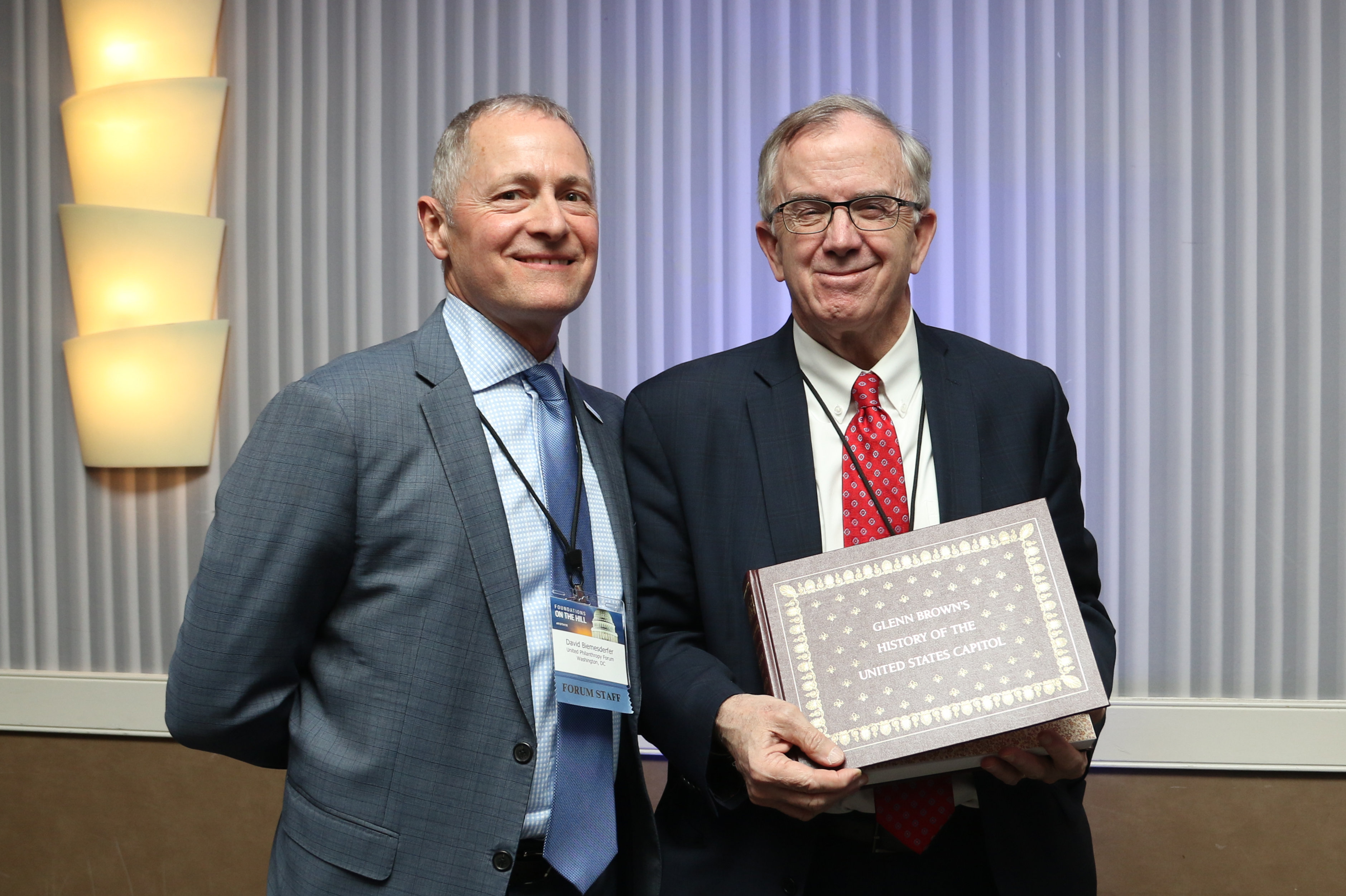 David Biemesderfer, President and CEO, United Philanthropy Forum, and Rob Collier, President and CEO, Council of Michigan Foundations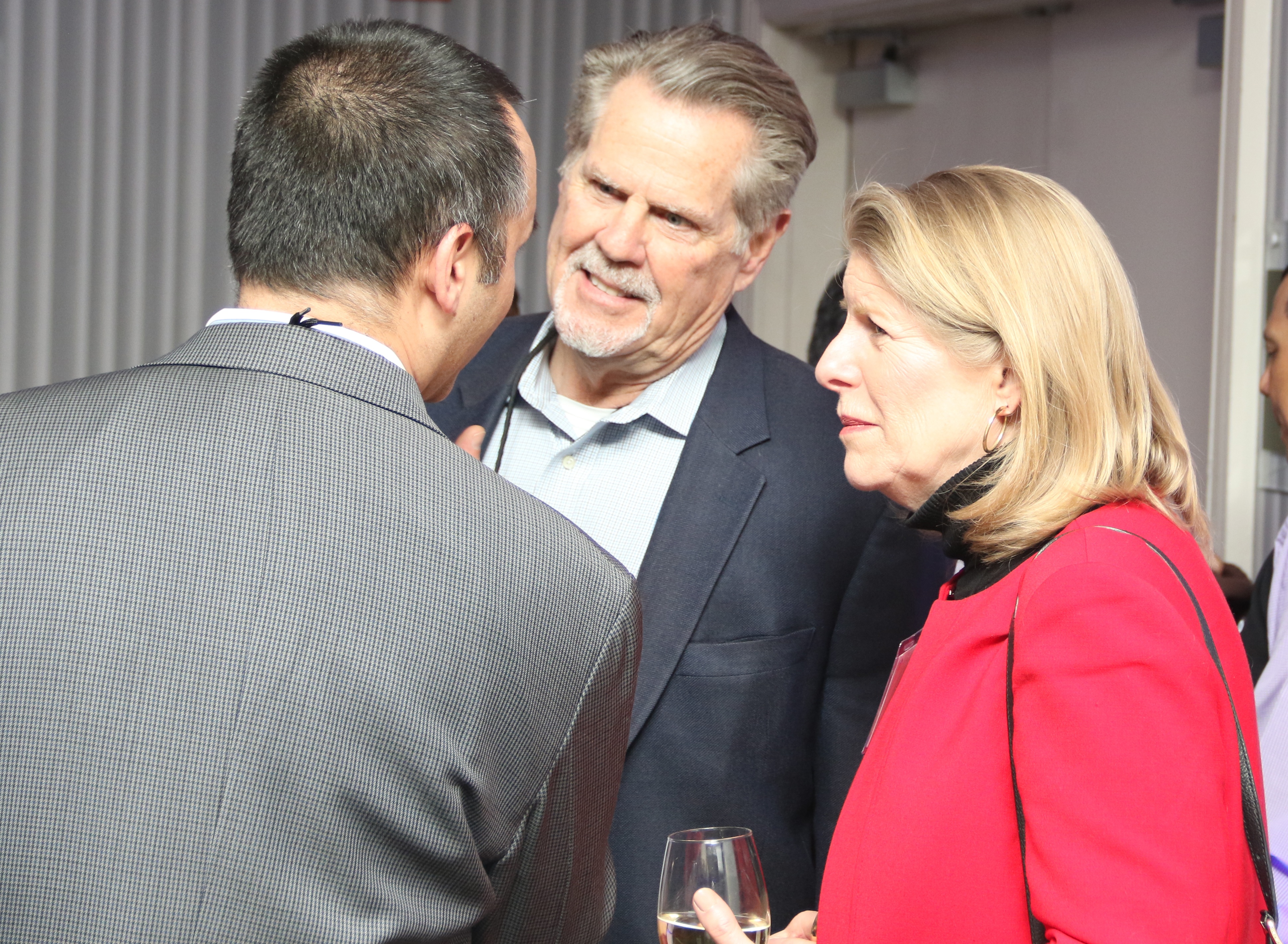 Council Senior Vice President of Government Relations Hadar Susskind; Bruce Esterline, Senior Vice President for Strategic Initiatives and Grants, Meadows Foundation; and, Council President and CEO Vikki Spruill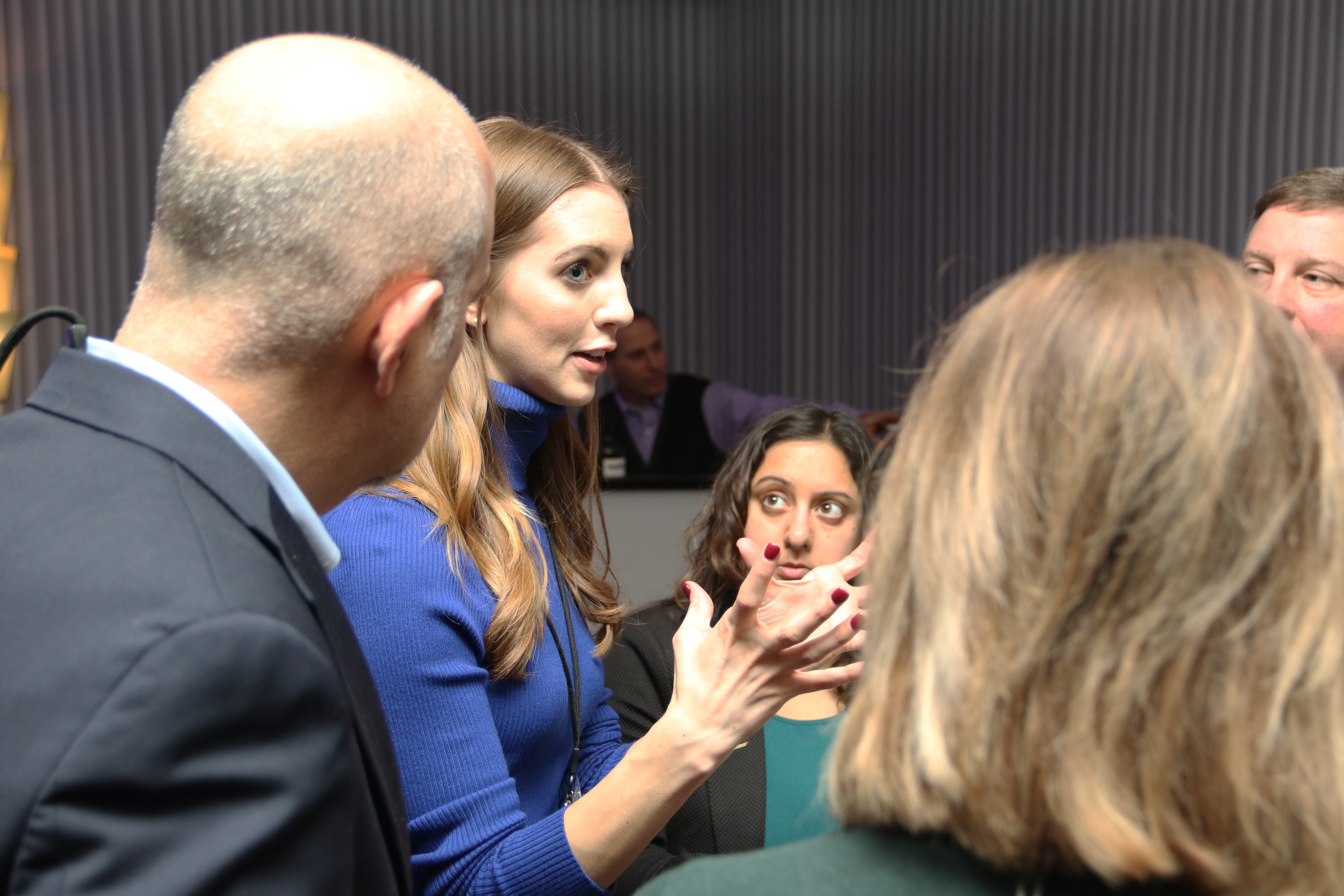 Council Associate Director of Public Policy Serena Jezior and members of the Illinois delegation
Edward Jones, Director of Programs, Association of Black Foundation Executives, Kiran Ahuja, CEO, Philanthropy Northwest, and Council Associate Director of Government Relations Peter Gordon
Tuesday and Wednesday were the days for getting down to the important work: meeting with members of Congress and other policymakers to raise the collective voice of philanthropy in policy conversations. On Wednesday, the Council—in partnership with the Robert R. McCormick Foundation, Bristol-Myers Squibb Foundation, New York State Health Foundation, and the Rand Corporation—hosted a lunch briefing on Capitol Hill to discuss veterans' health and mental health issues.
A Council reception organized in cooperation with the Philanthropy Caucus, National Council of Nonprofits, the United Philanthropy Forum, Philanthropy Roundtable, and Independent Sector concluded the FOTH event. Congresswoman Jackie Walorski (R-IN), the new co-chair of the Philanthropy Caucus, gave remarks and met with leaders in the field to discuss the good work happening in communities across the country.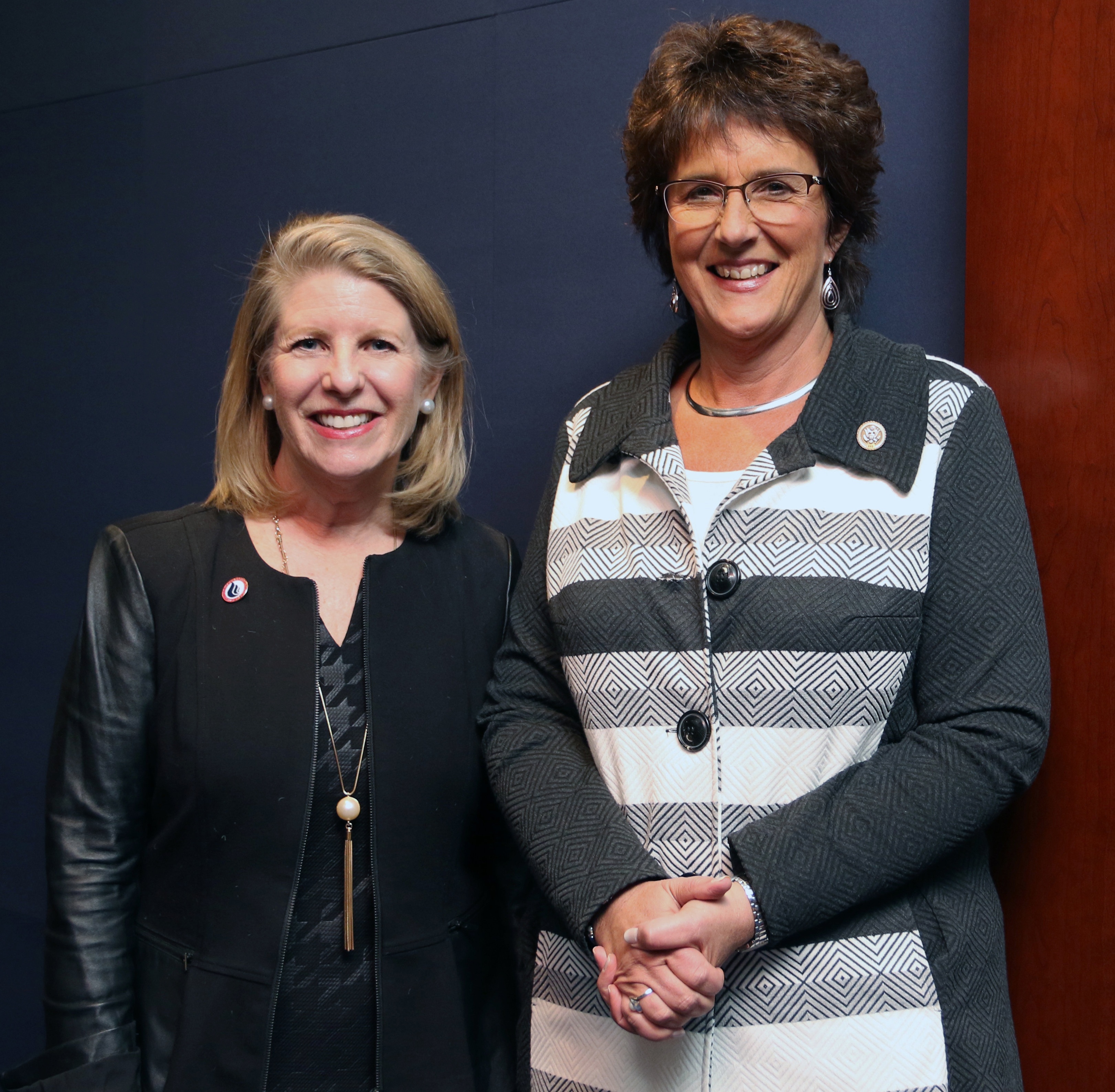 Council President and CEO Vikki Spruill and Rep. Jackie Walorski (R-IN)
---
Executive & Regulatory News
President Trump Shakes-Up Administration
March continued to be a turbulent time for personnel in the Trump administration as more departures were announced. On March 13, President Donald Trump fired Sec. of State Rex Tillerson. According to the Wall Street Journal, "President Donald Trump shook up his cabinet Tuesday by firing Secretary of State Rex Tillerson and choosing CIA Director Mike Pompeo as his successor, just as the White House plans to open talks with North Korea and a decision looms on the Iran nuclear accord. The ousting of Mr. Tillerson, who first learned about the move on Twitter, rippled through diplomatic circles around the world and set off a cascade of changes in the administration. Mr. Trump selected Gina Haspel, a longtime intelligence officer, to take over the Central Intelligence Agency. Both Mr. Pompeo and Ms. Haspel will require Senate confirmation before assuming their new positions."
With the departure of Gary Cohn earlier this month—attributed, in part, to his disagreement with Trump on imposing steel and aluminum tariffs—the president has tapped CNBC commentator Larry Kudlow as the next director of the National Economic Council. According to POLITICO, "Trump offered the job to Kudlow, a CNBC personality who has been a regular outside adviser to the president, over the phone Tuesday night [March 13] while Kudlow was at dinner at Cipriani restaurant in Manhattan, a person close to the matter said earlier Wednesday. Kudlow accepted."    
In another move by the Administration, last week, "Attorney General Jeff Sessions fired former FBI Deputy Director Andrew McCabe Friday night, dismissing the longtime bureau veteran who had been publicly pilloried by President Donald Trump and sparking a new war of words between McCabe and Trump. Sessions said the firing—carried out a little more than a day before McCabe was set to retire from the FBI—was triggered by internal reviews that concluded McCabe violated Justice Department policies and was not forthcoming with investigators probing FBI actions before the 2016 presidential election."
The POLITICO article goes on to note that McCabe believed his firing was the result of repeated public attacks by President Trump and the fact that he can substantiate former FBI Director Jim Comey's account of being fired by the president for refusing to shut down the Department of Justice's investigation into possible ties between Russia and the 2016 Trump campaign.
Additionally, Hope Hicks, the White House communication's director, announced on Feb. 28 that she was resigning from her position and is expected to officially leave her post sometime this month.
FEMA Announces Webinars to Discuss Strategic Plan
In an email sent earlier this week, Federal Emergency Management Agency (FEMA) announced its plans to host two webinars on its recently released 2018-2022 Strategic Plan. According to the email, "FEMA is committed to continued engagement with our partners as we implement the Strategic Plan. The Strategic Plan incorporates feedback received from you through previous engagements, and we want to continue that discussion as we define best ways to capture and measure successful implementation of the Strategic Plan and its goals. We value the diverse perspectives and insight each of you provides based on your experiences with disasters, and we seek this input as we begin to move forward."
Per the FEMA email, the details of the webinar are as follows:
WHAT: FEMA 2018-2022 Strategic Plan Webinar
WHO: David Bibo, FEMA Associate Administrator for Policy, Program Analysis, and International Affairs (Acting)
WHEN: Tuesday, March 27, 2018, at 1:00 PM ET or Wednesday, March 28, 2018, at 3:30 PM ET
PARTICIPANT INFORMATION:
For Tuesday
Via Phone: Dial in: 323-701-0223
Participant passcode: 147821
Via Adobe Connect: https://fema.connectsolutions.com/stratplan101iga/
Please sign in as a "Guest" and remember to mute your line if not speaking.
Test your Adobe Connect connection prior to the meeting by clicking here.
Closed captioning: http://www.fedrcc.us//Enter.aspx?EventID=3583747&CustomerID=321
For Wednesday
Via Phone:     Dial in: 323-794-2558
Participant passcode: 117003 
Via Adobe Connect: https://fema.connectsolutions.com/stratplan101iga2/
Please sign in as a "Guest" and remember to mute your line if not speaking.
Test your Adobe Connect connection prior to the meeting by clicking here.
Closed captioning: http://www.fedrcc.us//Enter.aspx?EventID=3583751&CustomerID=321
For the March 27th webinar, please RSVP here. For the March 28th webinar, please RSVP here. Thank you for your support of this initiative. If you have any questions, don't hesitate to contact us. Please send any questions you have to FEMA-Strategic-Planning@fema.dhs.gov.
---
Happening in the States
Exclusive from our colleagues at the National Council of Nonprofits.
Expanding Minnesota Non-Itemizer Deductions
Legislation introduced last week in the Minnesota House would expand the state's non-itemizer deduction by removing current limits so that all taxpayers would be able to deduct 100% of their charitable giving from state taxes. Minnesota's current non-itemizer deduction allows taxpayers to deduct 50% of their deductions above an initial $500 threshold. For example, a person donating $2,000 to charitable organizations is able to deduct $750 ($2,000 - $500 x .5 = $750). A Senate companion bill is expected in the coming weeks. The Minnesota Council of Nonprofits, along with a church leader and another nonprofit executive director, testified last week that the legislation is needed to address the unintended consequences of decreased giving from those who will no longer itemize on their income tax returns as a result of the new federal tax plan. Two-thirds fewer Minnesotans are expected to itemize their income tax returns under the new federal tax plan. Minnesota and Colorado are the two states with non-itemizer deductions. A bill introduced in New Jersey last week would likewise extend giving incentives to state taxpayers who no longer itemize as a result of the new federal tax law.
Donor Disclosures in the Legislatures
States are taking widely differing approaches to donor privacy issues. Washington State Governor Jay Inslee on Monday signed the DISCLOSE Act, a measure that requires 501(c)(3) organizations to disclose donors for certain amounts donated for ballot measure advocacy. A new disclosure provision will be triggered if a charitable nonprofit donates $10,000 cash or in-kind support to another organization that is engaged in ballot measures. The nonprofit would have to disclose its top ten donors above $10,000, as well as any donors above $100,000, regardless of whether the money was earmarked for a specific purpose.
A bill in West Virginia, pushed by a national group calling itself "People United for Privacy," would have prohibited state and local governments from forcing nonprofits to disclose donor information or from releasing, allowing to be released, or be required to release any record which identifies the association of a citizen with a 501(c)(3) organization. The bill also sought to exempt all donor information from the state's Freedom of Information Act and would have provided a private right of action for any violation by the state or public agency. The legislation passed the Senate at the end of February but died in a House committee when the Legislature adjourned on March 10.
---