Community Philanthropy Update—February 2018
I am deeply impressed by the relationships built in our field, sometimes from just one simple interaction at a Council event.
While serving as the CEO of an Indiana community foundation, I traveled out-of-state to a Council event in 2014 to be introduced to a colleague who, to this day, remains an important mentor and friend.
I've heard countless stories like this in my time at the Council. This is why our Community Foundation Professional Development offerings taking place across the country will have plenty of opportunities to foster new relationships from across our vast network. Whether it's Legal Matters workshops or Community Foundation Excellence Fundamentals and Financial Administration trainings, these are dynamic learning opportunities to engage on the business of community foundations.
The same connection happened at a Council event occurred for Alex Eaton of Community Foundation of Utah and Craig Showalter of Wyoming Community Foundation, who will lead a dynamic session on monetizing complex assets with our legal counsel, Bryan Del Rosario, at the CFUnited Conference in Las Vegas on Mar 18-21. Join the conference for additional Counsel sessions and an array of other valuable discussions among peers.
Fostering Connections Across our Field and Sector
I firmly believe in the value of convening community foundations—and our broader sector across the country—to gain new perspectives, share great ideas, and introduce mentoring relationships or just plain old friendships.
I also believe in the power of facilitating these in focused learning environments. For 2018, beyond our professional development series, our various Summits and convenings have been designed with a keen focus on the issues that matter to foundations and their staff.
Our Inclusive Economic Prosperity series includes two convenings, in Spartanburg, SC (May 23-24) and Minneapolis, MN (Aug 22-23), which are focused on two key strategies that foundations can utilize to promote economic inclusiveness: impact investing and public-private partnerships—strategies that can help communities undertake innovative capital and workforce investments to thrive in the coming decade of innovation and economic growth.
Finally, I would be remiss if I did not mention the remarkable experience that resulted from over 200 leaders from Canada, the U.S., and Mexico convening in Mexico City for the inaugural North American Community Foundation Summit. The influence of this Summit helped me and the attendees see how the work we do at the community level combines into global impact. It is up to us to capture that impact and demonstrate to the world how critical a role community foundations play in creating lasting change.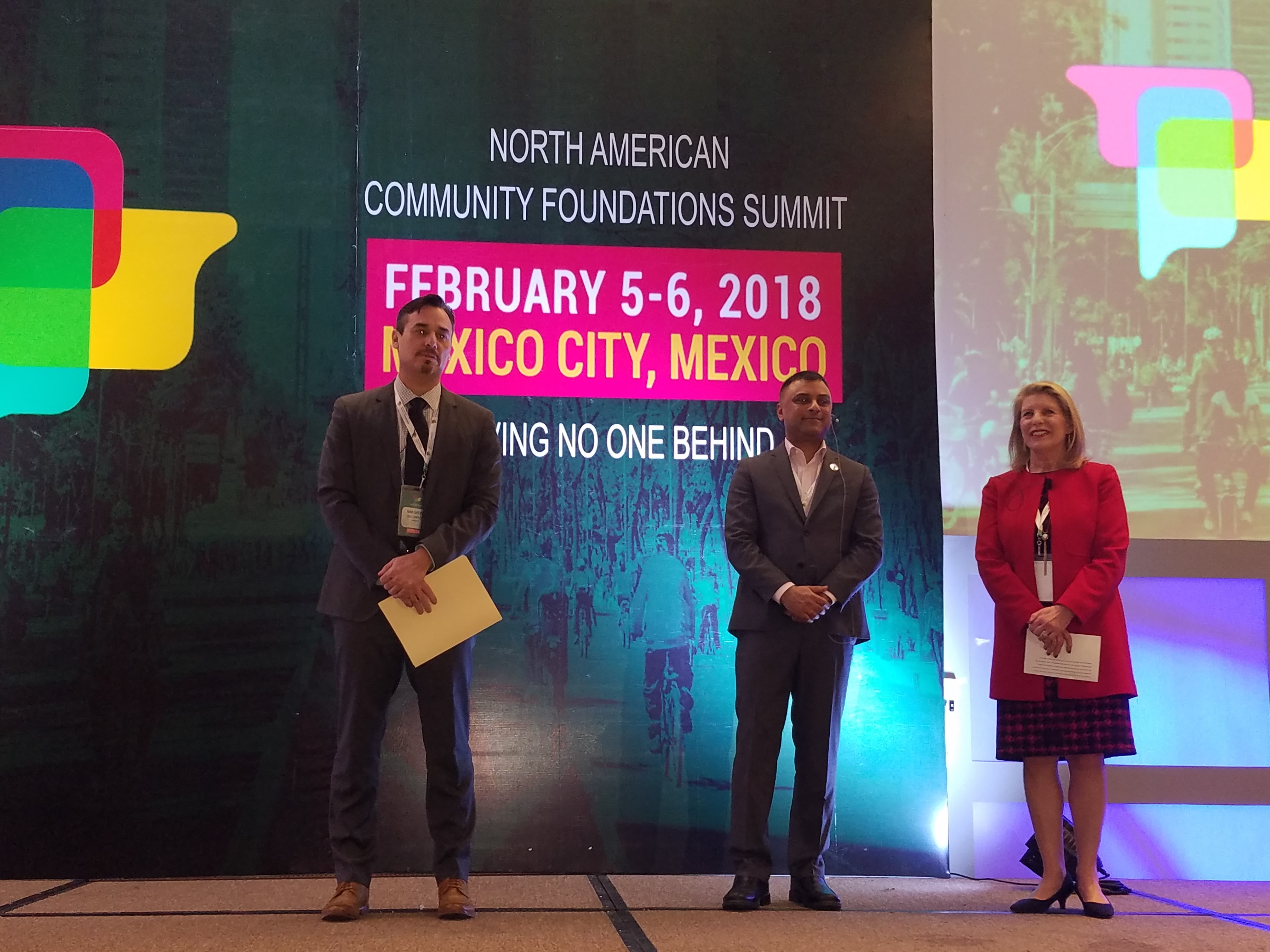 (Pictured:  Juan Carlos Ruiz of Comunalia and Andrew Chunilall of Community Foundations of Canada joined COF President and CEO Vikki Spruill in kicking off the North American Community Foundations Summit. The Council's SDG report was released as part of the first day activities.)
This notion of collective impact driven by the good of cohesive community foundations is poignant in the release of our Local Leadership, Global Impact report, and serves to transcend a recent article that raises the question: "Community Foundations are here for good, but are they here to stay?"  
Regards,
Brad Ward
Director, Community Philanthropy
P: 703-879-0640 | E: brad.ward@cof.org
Miss the January Newsletter?
You can read it at your leisure on the Council's website.
National Standards Update
National Standards accreditation now occurs on an annual basis. As community foundations transition off the five-year accreditation cycle, here is what you need to know:
Rather than submit a comprehensive, 5-year assessment of policies and procedures, the annual process makes it easy to only flag information that has changed.
Accredited organizations are encouraged to review their initial online assessment at least three months before their accreditation renewal date.
If your community foundation has been accredited via the online system, your accreditation is valid for one year.
Join one of the monthly National Standards conference calls (on the seconnd Wednesday of each month at 1:00 p.m. ET) for community foundation staff to hear updates about the program and to ask questions directly of the Standards team. The next call is on February 14.
What will CFs find at the Public Policy Summit?
Many community foundations are telling me how excited they are about the range of sessions offered at the upcoming Public Policy Summit on April 11-13 in Philadelphia.
This summit is designed for those curious about how they can more effectively grow in their advocacy work by facilitating engagement with both local, state, and federal policymakers to improve what philanthropy cares about.
Real strategies and case studies of how foundations are moving the needle in their communities will assist any community foundations that realize grant dollars alone can't fix the problems or capitalize on every opportunity afforded them.
If democratizing philanthropy for all matters to you, if you're curious how to align public-private partnerships on big issues, or want the inside track to current legislation, the midterm elections, or the federal budget and its impact on the community, register before the early bird discount expires!
Community Foundation Business Disruption: Digitalization
Join our series of conversations on how the ever-advancing digitized world is transforming our business model, good and bad. CEOs, Executive Directors, and those managing both the operations and people (from staff, volunteers, to donors) within your foundation will find the upcoming two conversations in this series fascinating.
Worth a Read
Tax Reform and DAF Regulations Details
Council members have 24/7 access to in-depth analysis on tax reform and DAF regulations. Listen to our available recordings to learn what every community foundation needs to be succesful in this new environment.
Opportunity Zones—A value to your community?
Tucked into the recently enacted tax bill was a provision to encourage investors to put capital in distressed communities. Dubbed "Opportunity Zones," this provision allows governors to nominate low-income communities within their states to receive the Opportunity Zone designation from the Department of Treasury.
Once in place, investors will be able to defer capital gains taxes when they choose to reinvest their earnings in these communities. Additional incentives accrue over time, encouraging investors to provide patient, long term capital so often lacking in distressed communities.
There is only a short window for governors to nominate Opportunity Zones. They must submit their recommendations to the Department of Treasury by March 22, 2018. You can learn more about this new tax incentive from the U.S. Impact Investing Alliance.