Private Philanthropy Update - September 2018
At the end of August, more than 130 funders gathered in the Twin Cities at the Council's second Inclusive Economic Prosperity convening. A mix of private, community, and corporate philanthropy leaders from across the region discussed strategies to effectively build economic innovation ecosystems and heard from diverse leaders within and outside of philanthropy, including Melvin Carter, the Mayor of St. Paul.
Bush Foundation and McKnight Foundation were lead partners in this convening, but several private foundations were also featured, including Ewing Marion Kauffman Foundation, Blandin Foundation, Sundance Family Foundation, Otto Bremer Trust, Northwest Area Foundation, and Skillman Foundation.
The event included a live taping of a Minnesota Public Radio Conversations on the Creative Economy episode, which highlighted three local enterprises generating positive impacts in the Twin Cities and beyond, all founded by women of color.
If you weren't able to join us, but still want to learn more about the topics discussed, you can download presentations on our updated event page. You can also explore a range of resources related to how philanthropy can drive inclusive economic prosperity in our regularly updated resource library.
Inclusive economic prosperity will also be a focus at our 2019 Leading Together conference. Registration will open later this month and you can sign up here to receive a notification when conference details go live. We hope you're planning to join us in Miami next April!
As summer ends, planning for 2019 is ramping up. Next year includes a lot of exciting changes for the Council, including a new leader, an office move (back to D.C.!), and our now biennial conference in Miami, Florida. Amidst this change, we look forward to continuing to hear stories about your impact and hope to work even more closely together in the future.
Please be in touch if you are in DC or at sector conferences in coming months and would like to get together.
Best,
Natalie Ross
Vice President, External Relations
Ph.: 703-879-0627
natalie.ross@cof.org

State of Global Giving by U.S. Foundations Report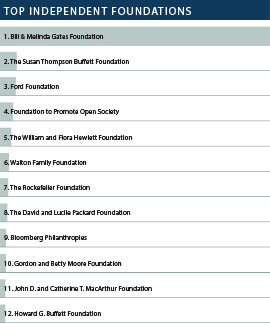 The Council on Foundations and Foundation Center released a new report about how U.S. foundations support international programs. The State of Global Giving by U.S. Foundations: 2011-2015 includes detailed analysis of trends by geographic region, population group, cause area and donor strategy.
Key findings included that:
International giving by U.S. foundations reached an all-time high of $9.3 billion in 2015, up 306% from $2.1 billion in 2002.
Only 12% of international grant dollars went directly to organizations based in the country where programs were implemented. The remaining 88% was channeled through organizations based elsewhere.
Sub-Saharan Africa received 25% of international grant dollars from 2011 to 2015.
Grants focused on climate change represented just 2% of global grantmaking by U.S. foundations.
The Gates Foundation accounted for 51% of global giving from 2011-2015, with $6.5 billion going to sub-Saharan Africa.
New Study of Investment of Endowments for Private and Community Foundations Report
The Council on Foundations and the Commonfund Institute published their annual report analyzing the latest investment and governance policies and practices across different foundations types. The 2017 CCSF report includes 220+ private and community foundations representing over $104 billion in assets.  
A few key findings about private foundations:
Participating private foundations reported an average FY2017 return of 15% compared with 6.4% in FY2016, which is the highest in four years.
Among private foundations with assets over $500 million, spending was unchanged, at an effective rate of 5.3%, however, 74% of these private foundations reported an increase in spending dollars.  
---
Council News
2019 Membership Dues
Last week, Council members received an update on the 2019 Dues Model. As many foundations begin budgeting for 2019, I wanted to make sure you were aware that:
For the third and final year, Council membership dues in 2019 will be determined by an average of assets and grants for 2010, 2011, and 2012. 
Early in 2020, the Council Board and staff, with input from current and former members and those who have never been members, will begin work on developing a new membership dues model. 
Thank you for your membership! We are committed to making membership more inclusive and accessible, and to provide members benefits and services that strengthen your grantmaking and impact. 
Career Pathways 2019 Application Now Open
Career Pathways, now recruiting its fifth cohort, is the Council's signature leader development program designed to help individuals passionate about philanthropy build their capacity as leaders and make the field more diverse, equitable, and inclusive. 
86 percent of Career Pathways alumni currently lead philanthropic organizations across the U.S. and world. Members of recent cohorts have come from a diverse set of private and independent foundations, including:
Andrew W. Mellon Foundation
Bush Foundation
Conrad N. Hilton Foundation
David and Lucile Packard Foundation
Meyer Memorial Trust
Ralph M. Pearsons Foundation
Walton Family Foundation
Apply before October 15 to be a part of the 2019 Career Pathways cohort!
New Calendar of 2018 UN General Assembly Philanthropic Side-Events
Later this month, representatives from government, civil society, and the corporate sector will come together to discuss important global challenges, from hunger and poverty to climate change and disaster during the 73rd Session of the United Nations General Assembly (UNGA) in New York City. Hundreds of UNGA side-events will bring together thousands of people, all working in different ways to "leave no one behind" and achieve the SDGs, including many grantmaking foundations, philanthropy networks, and corporations. 
To highlight the important role philanthropy plays in global development, we've compiled a 2018 UNGA Philanthropic Side-Events calendar. Find events featuring many private foundations, including the Rockefeller Foundation, Open Societies Foundation, Carnegie Corporation, Ford Foundation, UN Foundation and more. 

Global Goals: Innovative Approaches to Driving Impact at U.S. Companies 
September 19, 2018 | 2:00 p.m. ET
ER Causing You Trauma? Diagnosing The Rules and Regulations For Expenditure Responsibility
September 26, 2018 | 2:00 p.m. ET
Recent Webinars (Free to view for Members)
Insights from the 2017 Investment of Endowments Study
Awake to Woke to Work: Building A Race Equity Culture

"The Human Factor." How this Foundation is Responding to Grantee Feedback – a report on the Barr Foundation's new system for understanding and improving their relationship management practices. Via Inside Philanthropy 
Gospels of Giving for the New Gilded Age – a critical look at modern practices of private foundations, including reviews of upcoming books on private giving. Via The New Yorker 
When Salaries are Bigger Than Grants – an investigation of small foundations that pay more to staff and board members than they give out in charitable fund. Via the Chronicle of Philanthropy 
U.S. Treasury Restricts Donor Disclosure Requirement for Some Nonprofit Groups – A new ruling  means that some social welfare groups and trade associations won't have to list donors. Via The Wall Street Journal