Community Philanthropy Update—April 2019
When I meet with leaders of community foundations, bringing back the Council's former Community Foundation's Fall Conference tops the list of requests. I share in your desire for the Council to provide a better space for community foundation leaders to network and engage around issues that impact our work. And I'm pleased to report that this desire is fully endorsed by the Council, including our new President & CEO, Kathleen Enright.
Out of respect for the groups that have "filled the gap" since the last Fall Conference in 2014, the Council is joining forces with those who have produced the CFUnited Conference in 2016 and 2018 to form a partnership for a 2020 convening of community foundation leaders. Thus, I am pleased to announce...
2020 CFUnited,Community Foundations: Power of Place, Conference
April 5-8, 2020 | San Antonio, Texas
Brought to you by
AdNet, CommA, ProNet,and theCouncil on Foundations
More details will arrive this summer surrounding the conference and how you can get involved. Until then, my focus is squarely on delivering our jam-packed 2019 in-person offerings and virtual learnings (See Events). I'm also working to support our ongoing effort to Reimagine Council Membership, intended to reshape the dues structure and community foundation value-proposition to benefit existing and future members of the Council.
Thanks for all you do in advancing community philanthropy. Keep inspiring others to do good and I hope to see many of you in a few weeks at our Leading Together 2019 conference in Miami.
All the best,
Brad Ward
Director, Community Philanthropy
Ph.: 703-879-0640
Brad.Ward@cof.org
---
Where to Find Brad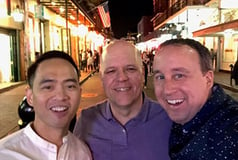 This week a selfie captured Bryan Del Rosario, Council Attorney; Eric Hozempa, Longmont Community Foundation and AdNet Conference Chair; and me in New Orleans during the AdNet Conference, where 200 community foundation development professionals came together to network, learn, and embrace change.
I'll be in DC next week (Apr 16-18) before heading to Miami (Apr 29-May 1) for our Leading Together Conference. Looking forward to seeing over 150 community foundation leaders at the conference of 800 attendees and partners!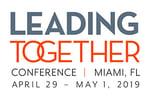 When we gather in Miami in a few weeks for our upcoming Leading Together Conference, I'm excited to discuss the massive pressures weighing down our communities, but the power of our sector to alleviate and propel us forward.
U.S. Communities in Crisis
pre-conference session
Prior to the start of Leading Together 2019, in the afternoon of April 29 (Noon-5 pm), there are several pre-conference sessions.I'll be leading the session U.S. Communities in Crisis and welcome attendees to join.
This session features several community foundation and sector leaders and influencers including, Mark Brewer, Central Florida Foundation; Sabrina Wu, East Bay Community Foundation; Scott Hansen, Board Chair, Ventura County Community Foundation; Brennan Gould, Charlottesville Area Community Foundation; and Isaiah Oliver, Community Foundation of Greater Flint.
---
COMMUNITY FOUNDATION EXECUTIVE ROUNDTABLES
Before the conference begins, we will convene a Community Foundation Executive Roundtable on Monday morning, April 29 in Miami, including a panel discussion with:
Kristi Knous, Community Foundation of Greater Des Moines
Tony Mestres, Seattle Foundation, Council Board Member
Peter Panepento, Community Foundation Public Awareness Initiative
Javier Soto, Miami Foundation, Council Board Chair
Moderated by Kathleen Enright, CEO, Council on Foundations
Focused on telling the community foundation story as critiques against organized philanthropy intensifies—how should community foundations position their work and show their value? In addition, we will be joined by resource partners, CFLeads, CFInsights, CEONet Affinity Group, National Standards Board Chair, and Council's Policy Advisors and Technology Teams to discuss trending issues and solutions.
Check out Livestreams from previous roundtables:
Washington DC Livestream:
Features Stuart Comstock-Gay, Delaware Community Foundation; Sherrie Armstrong, Community Foundation for a Greater Richmond; Kelly Ryan, Incourage Foundation; and James Head, East Bay Community Foundation
Tucson, AZ Livestream:
Features Randy Royster, Albuquerque Community Foundation and Council Board Member; Shelly O'Quinn, Innovia Foundation; and Diana Anderson, Southwest Initiative Foundation and National Standards Board Chair

CA PROPOSED DONOR-ADVISED FUND LEGISLATION
The Council is monitoring the progress of recently amended California AB 1712, a bill that would require new reporting from charities that sponsor donor advised funds. The Council is working with the League of California Community Foundations, Philanthropy California and others to properly respond to this proposed legislation.
If enacted as currently written, this bill would:
Require the California Attorney General's office to enact rules and regulations that would require charities that sponsor donor advised funds to provide information about individual funds or accounts.
Those reports would include, but are not limited to, information on whether the sponsor has a publicly available policy on funds that are inactive; a description on the manner that policy is monitored and enforced, or that no policy exists; and
The values of donor advised fund assets invested in mutual funds or other vehicles in entities controlled or under common control with an entity that provides administrative or investment services to the donor advised fund sponsor.
This proposed State legislation demonstrates the importance of recently enacted Active Funds Policy recommendations by National Standards, and the relevance of the Council's federal public policy team monitoring activities happening locally that could have ripple effects across the country. Continue to monitor the Washington Snapshot for ongoing developments.

Webinars
Apr 24 | 2-3 pm EST | Webinar: Conduit or Can't Do it—What to do when your grantee is not the grantee with Legal Counsel, Bryan Del Rosario
May 8 | 1-2 pm EST | Conference Call with National Standards
Archived | Continued Learning: Trends in Professional Development for Community Foundations